Coors Light is 'most sustainable' beer brand, according to surveys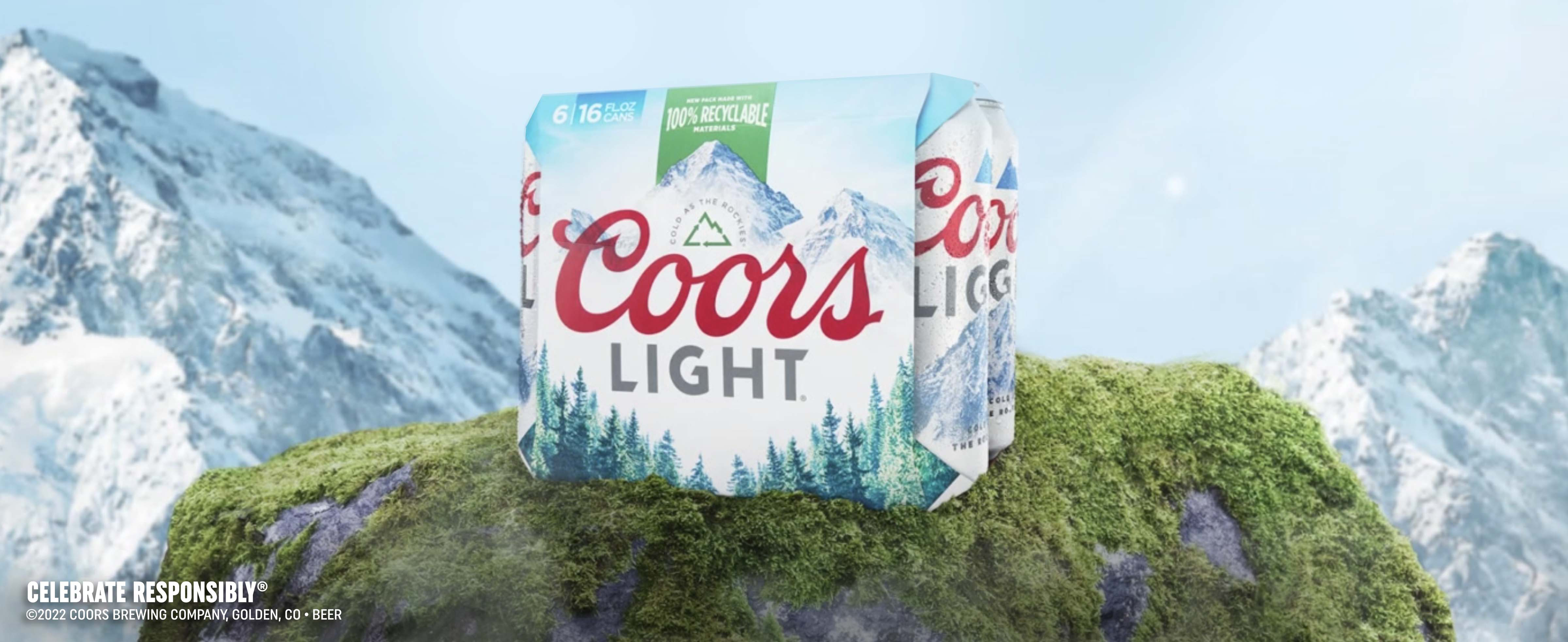 By Alex Parker, 19 April, 2023
Consumers are increasingly shifting their spending to goods they perceive as more sustainable. And when it comes to beer, none has a better reputation among younger legal-age drinkers who care about sustainability than Coors Light.
Since it announced its shift from plastic rings to paperboard packaging last spring, Coors Light has regularly asked consumers which beer brands they think are the most responsible in the areas of packaging, water and energy use, ingredients and waste. The brand engaged polling firms YouGov and Ipsos to conduct surveys of 2,000 drinkers between age 21 and 34, asking them to rank Coors Light and eight other large domestic and import beer brands.
Their conclusion? Coors Light is the "most sustainable" beer brand in the U.S. and tied for first in North America, moving up four spots over the course of the last year.
"Sustainability is a core pillar of our strategy. We think it's a competitive advantage," says Marcelo Pascoa, vice president of marketing for the Coors family of brands. "It's going to help bring in more younger drinkers and sell more beer. And it helps us live up to the legacy of the Coors brand, which is about doing the right thing, even when it's hard."
The Coors brand's commitment to sustainability goes back decades, beginning when Bill Coors pioneered the two-piece aluminum can, revolutionizing the beverage industry. In the early 1970s, Coors introduced the first nationwide recycling program, which helped kicked off aluminum recycling in America.
In 2022, Coors Light made big strides in communicating its sustainability story. It won acclaim for its Chillboards marketing program, in which it covered rooftops in a Miami residential complex with ultra-reflective white paint, lowering cooling costs for residents. More recently, the brand tweaked its primary packaging to include a call to action for consumers to recycle: a green "chasing arrows" icon in the shape of Coors Light's famous mountain logo.
And Coors Light's move away from plastic rings was part of a broader effort by Molson Coors to convert all of its North American brands into paperboard packaging, an $85 million project that requires updating packaging lines in many of its breweries.
"We want to be a positive force in the world, and we want to help people celebrate all life's moments now and 50 or 150 years from now. To do that, we need to take action to ensure resources like water and quality barley, are available now and in the future," says Rachel Schneider, Molson Coors' vice president of sustainability. "We need to invest in our future."
While Pascoa is encouraged by the consumer sentiment survey results, he acknowledges there's much more to be done. It's an investment he believes will pay off.
"We're doing it because it's the right thing, but we also believe it's good business," he says. "What we do matters more than what we say."
More News